Pullulan is applied to fruit Preservation
The pullulan aqueous solution has an extremely excellent film forming property. The film has gloss and transparency, good toughness, stable temperature change, good heat seal, gas barrier property, aromaticity retention, oil resistance, electrical insulation and other characteristics. With no need for any plasticizers or stabilizers, the finished product is non-toxic and harmless to food, environment and human body. Furthermore, it is edible, used to add luster and fresh-keeping on the surface of food, and it is highly convenient that it can be eaten with film. Therefore, it is an ideal packaging material for water-soluble food.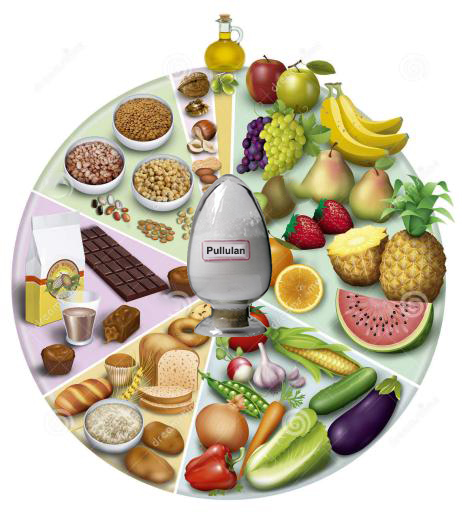 Fruits, such as apples and citrus, are not resistant to storage and are perishable, and the common refrigeration methods are not satisfactory. Pullulan itself is non-toxic, odorless, and has no side effects on the human body so it is ideal for preservation of fruits. It can overcome the shortcomings of past coating agents for packaging such as acrylic alcohol, solvent wax, natural wax and polyethylene. Although these coating agents can reduce the oxygen contained in the fruit and increase the carbonation gas, they are capable of inducing fermentation, accumulating ethanol and aldehydes, and producing stink.
Pullulan polysaccharides with different molecular weights have better water retention, especially pullulan with high molecular weight.
The study also found that pullulan itself does not have bactericidal and bacteriostatic effects, while pullulan and a certain amount of preservative (preservative is a food additive for the purpose of maintaining the original quality and nutritional value of the food, it is capable of inhibiting the growth and reproduction of microorganisms, preventing food spoilage, and prolonging its shelf life.) Mixed treatment of fruits has more obviously antiseptic and fresh-keeping effect. The reason is that pullulan has a good film-forming property, and is mixed with a preservative to be applied to the surface of the fruit, which can serve to isolate oxygen, delay fruit spoilage, and preserve long-term freshness.
The effect of pullulan treatment on the shelf life was more obvious. After mixing with pullulan and preservatives, it is obviously effective that the quality of the fruit shelf life is maintained, the water loss is reduced, and the shelf life is prolonged.
more about: Pullulan is applied to egg Preservation