Pullulan
Pullulan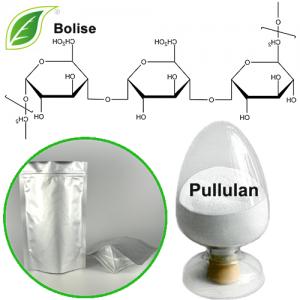 [ CAS NO. ] 9057-02-7
[ Molecular Formula ] (C6H10O5)n
[ Appearance ] White powder
[ Characteristic ]  hydrolyzed by pullulanase into more than 94.0 % maltotriose
COA of Pullulan Pharmaceutical Grade
Content: 99.6%
PH:  4.7
Ash: <0.7%
Protein: <0.8%
Loss on drying: <4.8%
Arsenic(As):  <1.4ppm
Heavy Metal(Pb): <3.1ppm
Viscosity:  149cst
colon bacillus: Not detected
Colony:  264cfu/g
COA of Pullulan Food Grade
Content:  98.5%
PH: 4.7
Moisture: 2 g/100g
Ash:  0.3 g/100g
Protein:  0.2 g/100g
Arsenic(As):  <0.3 mg/kg
Heavy Metal(Pb):  <10 mg/kg
Fitness:     95.6 g/100g
Viscosity:   135mpa.s
Colony:  60cfu/g
Coliform:  <30 MPN/100g
Mould:  <10cfu/g
Microzyme: <10cfu/g
Pathogen:  Not detected
About Pullulan
Pullulan is an extracellular water-soluble polysaccharide similar to glucan and xanthan gum produced by fermentation of Aureobasidium pullulans, which was found as a special microbial polysaccharide in 1938 by R.Bauer.
Pullulan can be used in the pharmaceutical industry to manufacture capsules, lozenges, amorphous drugs, hemostatic agents, plasma extenders, X-ray fluoroscopy, toxoids and vaccine protectants; wound sutures; artificial organs and anticoagulant medical materials, etc.. Compared with other capsules, Pullulan capsule has highly obvious advantages.
Pullulan is used for the development of copolymers, permeability barrier coatings, nanofibers, nanospheres, nanogels, and biofilms with potential uses that range from protective food wrapping materials to biocompatible tissue engineering and drug delivery materials and structures.
For more information of product, please send the email to bkherb@globals-globals.com


After send online enquiry, we will reply you as soon as possible, if not get any response on time please contact us by Tel or Email.This form is unable to receive your inquiry from aol, hotmail, gmail or others but company email address.
E-MAIL:bkherb@globals-globals.com
TEL: +86 592 536 5868
WHATSAPP: +86 189 6516 2351