Artemia Extract
Artemia Extract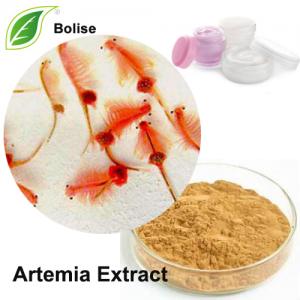 [ Detection method ] UV; HPLC
[ Plant part used ] worm body
[ Appearance ] Brownish yellow powder
[ Main Ingredients ] CP4G
[ Application ] Medicine Cosmetics and Health Food
Artemia Extract Skin Benefits
Anti aging Agents;
Anti stress Relaxing Agents;
Protective Agents;
Regenerating Revitalizing Agents;
Antioxidants;
Emollients;
Thickeners/Emulsifiers;
About Artemia Extract(Artemia Salina Extract)
Artemia Extract is an extract of the brine shrimp (Artemia salina),a crustacean in the animal kingdom. It is used in cosmetics as a skin conditioner.
Artemia Extract contains rich protein, complete composition of amino acid and relatively high-content crude fat. In the Artemia Extract, the unsaturated fatty acid is higher than saturated fatty acid. Another characteristic of Artemia Extract is that it can significantly increase the content of Fe2+ in the liver, while Fe2+ is the main component of heme. Therefore, Artemia Extract can be used as a hematinic to increase the content of DHA, EPA, heme, and brain protein in the liver.
Artemia Extract is a unique extract from marine plankton that stimulates and protects the skin against environmental stress, enhances retention and repair, and effectively delays skin aging.
Artemia extracts newer multi-functional anti-aging ingredients to promote cell metabolism and regeneration. It was proposed in foreign journals in 2005, and its main component is Diguanosine Tetraphosphate (GP4G).
For more information of product, please send the email to sales@boliseco.com


After send online enquiry, we will reply you as soon as possible, if not get any response on time please contact us by Tel or Email.This form is unable to receive your inquiry from aol, hotmail, gmail or others but company email address.
E-MAIL:sales@boliseco.com
TEL: +86 592 536 5868
WHATSAPP: +86 189 6516 2351