GP4G(Diguanosine Tetraphosphate)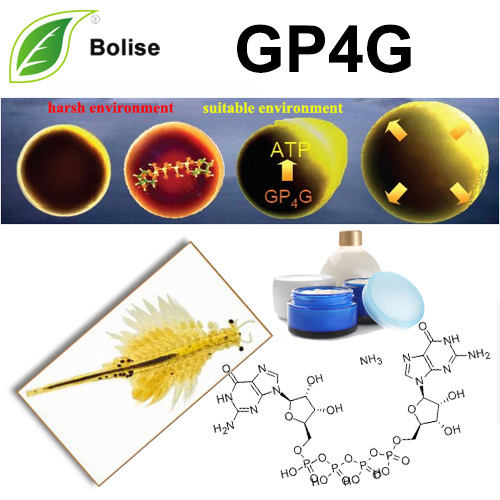 [INCI Name]Plankton Extract
[CAS NO.]102783-33-5
[Molecular Formula]C20H28N10O21P4
[Molecular Weight]868.385764
[Function] 
1.Cell Protection Factor: GP4G protects and repairs DNA damage in skin cells.
2.Cell Energy Factor:GP4G is a stable precursor of ATP, and GP4G is directly converted to ATP.
3.Cell Activation Factor:GP4G enhances the synthesis of proteins that play a key role in the epidermis.
4.Cell Defense Factor:GP4G promotes the production of HSP70 and plays an important role in the metabolism of many cells.
5.Cell antiallergic factor:GP4G reduces UV-induced pro-inflammatory cytokines synthesis.
[Application]
1.Sunscreen products
2.Newborn empowerment products
3.Anti-photoaging products
4.Repair DNA products
5.Hair care product



[Instruction for Use]
●Concentration 160-200ppm, addition 0.5-5%
●Concentration300-360ppm, addition 0.3-3%
●Keep in dry, cool and dark place
●Valid period: two years
[About GP4G (Diguanosine Tetraphosphate)]
GP4G (Diguanosine Tetraphosphate) is an unique marine plankton extract.
  If you want to learn more about GP4G(Diguanosine Tetraphosphate) information, welcome to contact us!