Tripeptide-32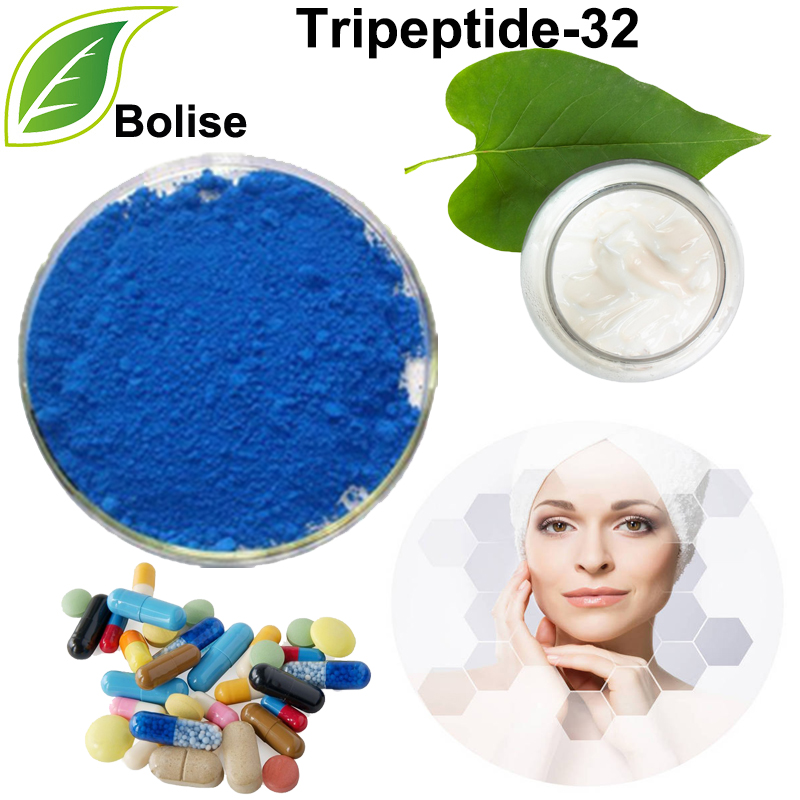 [ Solubility ] Soluble in water
[ Grade Standard ] Cosmetic and Pharmaceutical Grade
[ Appearance ]   Blue powder
[ COA of Tripeptide-32 ]
Assay(by HPLC):  90.7%
Water(Karl Fischer):  1.75%
Identity by MS(GHK):  340.3
PH value:  6.5
Cu Content(by HPLC):  5.2%
HAC(by %HPLX):  11.6%
[ Functions and applications of Tripeptide-32 ]
1. Anti-wrinkle and anti-aging
2. Improve skin quality
3. Facial and body care
4. Face, neck and hand care
[ About Tripeptide-32 ]
Tripeptide-32 is the synthetic peptide consisting of proline, serine and threonine.
Tripeptide-32 has water-binding properties. That means it keeps skin hydrated by preventing water loss. Tripeptide 32 can be added to beauty products such as lotions, morning and evening creams, eye serums, etc.
Tripeptide-32 protects collagen from damage by activated carbon groups. It is antioxidant and anti-saccharification, which can be used as health food too.
[ Storage ]  A cool(2~8 ) & dry place protected from light, keep package close when not in use.
  If you want to learn more about Tripeptide-32 information, welcome to contact us!