Tetrahexyldecyl Ascorbate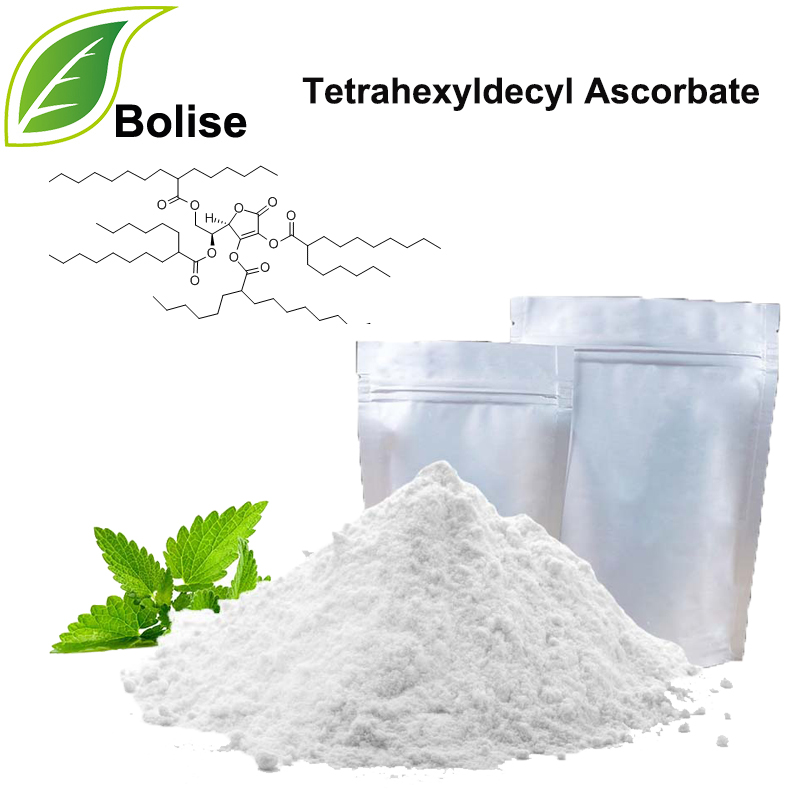 [ Trade name ] MoreWhiteTM AT2H
[ Other name ]  Ascorbyl Tetra-2-Hexyldecanoate
[ CAS NO. ] 183476-82-6  
[ Molecular Formula ] C40H76O6 
[ Molecular weight ] 653.042
[ Appearance ] White Powder  
[ Main Function ]
1. Anti-Aging
2. Metabolism Activation Cell Activation; Acceleration of Collagen
3. Synthesis
4. Whitening
5. Anti-Oxidation
6. Prevetion of Lipid Peroxidation
7. Prevetion of DNA Damage
8. Prevetion of UV Induced cell Damage
9. Depigmentation Effect
10. Inhibition of  Tyrosinase Activity
11. Inhibition of  Melanogenesis
[ Action efficacy ]
1.A highly efficient, fat-soluble vitamins C 
2.Reverse slight wrinkle and ageing skin
Application: Cosmetics, personal care products
[ COA of Tetrahexyldecyl Ascorbate(Cosmetic Grade) ]
Appearance:Colorless to light  yellow liquid with a faint  characteristic
odor
Specific gravity   d:  0.930-0.943
Refractive index  n: 1.459-1.465
Heavy metals ppm: 20 max
Arsenic ppm: 2 max
Color APHA:  100 max
[ About Tetrahexyldecyl Ascorbate ]
Tetrahexyldecyl Ascorbate is a very stable, oil-soluble Vitamin C ester which has anti-oxidant activity, inhibiting lipid peroxidation. This modification allows it to better penetrate the skin. The problem with most topical forms of vitamin C is they're water soluble and can't make it through the lipid-rich skin barrier to reach the dermis of skin where they could have maximal benefits. Tetrahexyldecyl ascorbate is able to successfully penetrate the epidermis and move to the layer underneath called the dermis. It's in the dermis that collagen, a protein that gives skin its youthful firmness and ability to resist wrinkles.
Tetrahexyldecyl Ascorbate is a highly efficient, fat-soluble vitamins C, with its resistance to free radical efficacy, help reverse slight went wrinkle and ageing skin.Tissue growth and repair adrenal function, health gums must of antioxidants. It prevent harmful infections and cancer, also can enhance immunity. Reducing cholesterol and high blood pressure, still can prevent arteriosclerosis.
If you want to learn more about Tetrahexyldecyl Ascorbate information, welcome to contact us!