Vanillic acid
Vanillic acid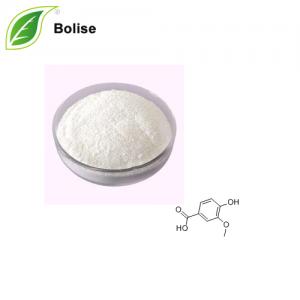 Chemical Name: 4-Hydroxy-3-methoxybenzoic acid    
CAS No.:121-34-6
Molecular Formula:C8H8O4
Molecular Weight:168.15
Melting point:208-210 °C(lit.)
Boiling point:257.07°C (rough estimate)
Density: 1.3037 (rough estimate)
Appearance:white colourless crystals or powder
About Vanillic acid:
Vanillic acid is a dihydroxybenzoic acid that can be used as a flavoring agent. As an oxidized form of vanillin, it is the intermediate product during the two-step bioconversion process from ferulic acid to vanillin. It exists in high amount in the root of Angelica sinenisis, which is a plant used in traditional Chinese medicine. It also exists in acal oil, argan oil as well as wine and vinegar.
Vanillic acid is a compound widely used in foods, beverages, cosmetics and drugs, has been reported to exhibit multifunctional effects such as antimutagenic, antiangiogenetic, anti-colitis, anti-sickling, and antianalgesic effects. 
 
For more information of product, please send the email to bkherb@globals-globals.com


After send online enquiry, we will reply you as soon as possible, if not get any response on time please contact us by Tel or Email.This form is unable to receive your inquiry from aol, hotmail, gmail or others but company email address.
E-MAIL:bkherb@globals-globals.com
TEL: +86 592 536 5868
WHATSAPP: +86 189 6516 2351