Ulipristal Acetate
Ulipristal Acetate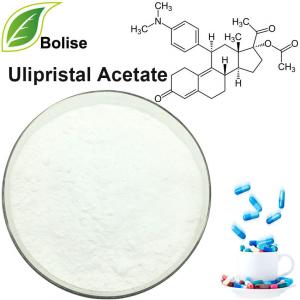 [ Synonyms ] (11b)-17-(Acetyloxy)-11-[4-(dimethylamino)phenyl]-19-norpregna-4,9-diene-3,20-dione
[ CAS NO. ] 126784-99-4
[ Molecular Formula ] C30H37NO4
[ Molecular Weight ]  475.62
[ Density ] 1.19g/cm3
[ Boiling point ]  640.1°C at 760 mmHg
[ Refractive index ]  1.593
[ Flash point ] 340.9°C
[ Appearance ] White or off-white solid
[ Aplication ]  Inhibit or delay ovulation
About Ulipristal Acetate
As a SPRM, ulipristal acetate has partial agonistic as well as antagonistic effects on the progesterone receptor. It also binds to the glucocorticoid receptor, but has no relevant affinity to the estrogen, androgen and mineralocorticoid receptors. Phase II clinical trials suggest that the mechanism might consist of blocking or delaying ovulation and of delaying the maturation of the endometrium.
For more information of product, please send the email to [email protected]


After send online enquiry, we will reply you as soon as possible, if not get any response on time please contact us by Tel or Email.This form is unable to receive your inquiry from aol, hotmail, gmail or others but company email address.
E-MAIL:[email protected]
TEL: +86 592 536 5868
WHATSAPP: +86 189 6516 2351