Tetrahydrocurcuminoids (THC)
Tetrahydrocurcuminoids (THC)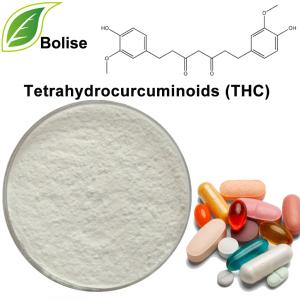 [ CAS No. ] 36062-04-1
[ Molecular Formula ] C21H24O6
[ Molecular Weight ] 372.415
[ Melting Point ] 95-97 ºC
[ Appearance ] white powder
[ Effect ]
(1) Anti-inflammation
(2) Antioxidant effect
(3) Whitening and removing freckles
(4) Promote wound healing
About Tetrahydrocurcuminoids (THC)
Tetrahydrocurcuminoids (THC) are derived from curcuminoids (extracted from the roots of curcuma longa, commonly known as turmeric root). Tetrahydrocurcuminoids are phenolic in nature, acting as antioxidants, protecting against free radicals and preventing the
generation of free radicals. Unlike yellow curcuminoids, THC is a colorless compound which can therefore be used in color free cosmetic products that currently employ conventional and synthetic antioxidants.
Tetrahydrocurcuminoids is used in new pharmaceutical raw materials and intermediates because of its anti-oxidation, anti-tumor and anti-atherosclerosis. 
For more information of product, please send the email to sales@boliseco.com


After send online enquiry, we will reply you as soon as possible, if not get any response on time please contact us by Tel or Email.This form is unable to receive your inquiry from aol, hotmail, gmail or others but company email address.
E-MAIL:sales@boliseco.com
TEL: +86 592 536 5868
WHATSAPP: +86 189 6516 2351