Tesofensine
Tesofensine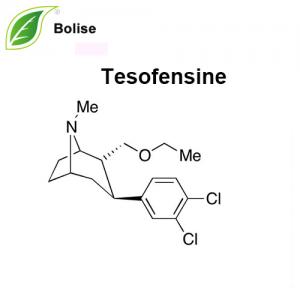 Synonyms:(1R,2R,3S,5S)-3-(3,4-Dichlorophenyl)-2-(ethoxymethyl)-8-methyl-8-azabicyclo[3.2.1]octane; [1R-(2-endo,3-exo)]-3-(3,4-dichlorophenyl)-2-(ethoxymethyl)-8-methyl-8-azabicyclo[3.2.1]octane; NS 2330;
CAS No.:195875-84-4
Molecular Formula: C17H23Cl2NO
Molecular Weight: 328.277
Density: 1.161 g/cm3
Boiling point: 396.6°C at 760 mmHg
Flash point: 193.7 ° C
Solubility:Chloroform (Slightly), Methanol (Slightly)
Appearance: Off-White to Light Yellow Sticky Solid
About Tesofensine:
Tesofensine is a serotonin-norepinephrine-dopamine reuptake inhibitor,which is is currently in clinical development for the treatment of obesity. According to a report by the researchers at the 16th European Obesity Conference, Tesofensine helps obese patients lose weight and subtracts the weight of their body and the right ingredients (fat).
Tesofensine is a potential new weight loss medication that is currently undergoing clinical trials. Results from the Phase IIb clinical trials suggest that Tesofensine may be even more effective than the two slimming pills currently on the market: Xenical and Reductil. 
For more information of product, please send the email to bkherb@globals-globals.com


After send online enquiry, we will reply you as soon as possible, if not get any response on time please contact us by Tel or Email.This form is unable to receive your inquiry from aol, hotmail, gmail or others but company email address.
E-MAIL:bkherb@globals-globals.com
TEL: +86 592 536 5868
WHATSAPP: +86 189 6516 2351