Sulfamethoxazole
Sulfamethoxazole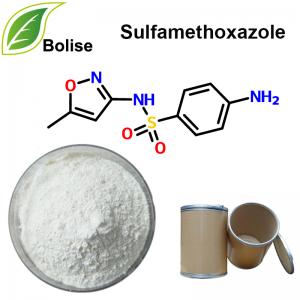 [ Synonyms ]  4-amino-N-(5-methyl-1,2-oxazol-3-yl)benzenesulfonamide;Sulfamethoxazole;Benzenesulfonamide, 4-amino-N-(5-methyl-3-isoxazolyl)-;
[ CAS NO. ]  723-46-6
[ Molecular Formula ] C10H11N3O3S
[ Molecular weight ] 253.276
[ Appearance ] White Powder
[ Melting point ] 166 °C
[ Boiling point ]  482℃
[ Density ]  1.3915 (rough estimate)
[ Refractive index ] 1.6630 (estimate)
[ Solubility ]     Practically insoluble in water, freely soluble in acetone, sparingly soluble in ethanol (96 per cent). It dissolves in dilute solutions of sodium hydroxide and in dilute acids.
[ Main Function ] Synthetic Anti-infective Drugs
[ Application ]
1. Sulfamethoxazole is commonly used to treat urinary tract infections. In addition can be used as an alternative to amoxicillin-based antibiotics to treat sinusitis. It can also be used to treat toxoplasmosis. 
2. Sulfamethoxazole is A kind of pharmaceatical raw material used for medicine cotrimoxazole.
About Sulfamethoxazole
Sulfamethoxazole is an antibiotic. It is used for bacterial infections such as urinary tract infections, bronchitis, and prostatitis and is effective against both gram negative and positive bacteria such as Listeria monocytogenes and E. coli.
Sulfamethoxazole is used only in combination with the diaminopyrimidine trimethoprim.
For more information of product, please send the email to bkherb@globals-globals.com


After send online enquiry, we will reply you as soon as possible, if not get any response on time please contact us by Tel or Email.This form is unable to receive your inquiry from aol, hotmail, gmail or others but company email address.
E-MAIL:bkherb@globals-globals.com
TEL: +86 592 536 5868
WHATSAPP: +86 189 6516 2351