Soy Lecithin
Soy Lecithin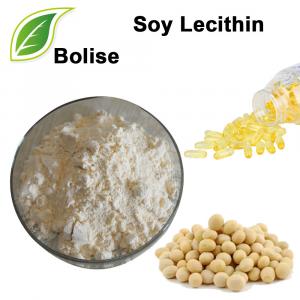 [ Other name ] Soybean Lecithin; Soya Lecithin
[ Appearance ] Light Yellow fine Powder
[ Functions ] 
1. Soya lecithin is used to prevent and treat atherosclerosis.
2. It will prevent or delay the occurrence of dementia.
3. It can break down the body of toxins, owns the effective of white-skin.
4. Soya lecithin has the function of reducing serum cholesterol levels, prevent cirrhosis, and contribute to the recovery of liver function.
5. It will help to eliminate fatigue, intensify the brain cells, improving the result of nervous tension caused by impatience,irritability and insomnia.
About Soy Lecithin
It has a very wide application because it is an emulsifying product. It is used in the manufacture of various food products such as mayonnaise, chocolates, chocolate, margarine, ice cream, cookies and gums.
Soy Lecithin is a wonderful ingredient to add to your culinary and body care recipes. It contains many beneficial properties, and is used as an emulsifier, thickener, stabilizer, mild preservative, moisturizer, and emollient. Lecithin can be utilized in almost any recipe, and is commonly found in both food and cosmetic products.
Cosmetically,soy lecithin may be added to moisturizers, makeup, shampoos, conditioners, body washes, lip balms, and many other products.Soy lecithin is also a great alternative to other emulsifying and stabilizing agents, some of which are derived from petrochemical sources.
It is used for its wide functional and Nutritional properties. 
For more information of product, please send the email to [email protected]


After send online enquiry, we will reply you as soon as possible, if not get any response on time please contact us by Tel or Email.This form is unable to receive your inquiry from aol, hotmail, gmail or others but company email address.
E-MAIL:[email protected]
TEL: +86 592 536 5868
WHATSAPP: +86 189 6516 2351