Sorafenib
Sorafenib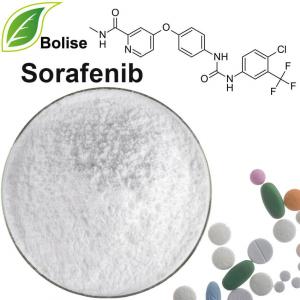 [ CAS NO. ]  284461-73-0
[ Molecular Formula ]  C21H16ClF3N4O3
[ Molecular Weight ] 464.83
[ Density ] 1.454 g/cm3
[ Melting Point ] 225-235ºC
[ Boiling Point ] 523.3ºC at 760 mmHg
[ Flash Point ] 270.3ºC
[ Vapor Pressure ] 4.76E-11mmHg at 25°C
[ Appearance ] White powder
About Sorafenib
Sorafenib is a synthetic compound targeting growth signaling and angiogenesis. Sorafenib blocks the enzyme RAF kinase, a critical component of the RAF/MEK/ERK signaling pathway that controls cell division and proliferation; in addition, sorafenib inhibits the VEGFR-2/PDGFR-beta signaling cascade, thereby blocking tumor angiogenesis. Sorafenib was approved in 2005 for use in the treatment of advanced renal cancer.
For more information of product, please send the email to [email protected]


After send online enquiry, we will reply you as soon as possible, if not get any response on time please contact us by Tel or Email.This form is unable to receive your inquiry from aol, hotmail, gmail or others but company email address.
E-MAIL:[email protected]
TEL: +86 592 536 5868
WHATSAPP: +86 189 6516 2351