Sertaconazole Nitrate
Sertaconazole Nitrate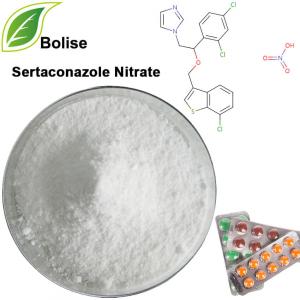 [ CAS No. ] 99592-32-2
[ Molecular Formula ] C20H15Cl3N2OS 
[ Molecular Weight ]  437.77
[ Appearance ] White or almost white powder
[ Melting point ] 146-147°
About Sertaconazole Nitrate
Sertaconazole nitrate is a new broad spectrum imidazole antifungal agent introduced in a topical formulation for the treatment of cutaneous infections. Its mechanism of action is the inhibition of ergosterol synthesis and interference with the permeability of fungus cell membranes. An oral formulation is currently under investigation for the treatment of bucco-pharyngeal fungal infections. 
For superficial skin fungal infection caused by dermatophytes, candida skin fungal infection caused by candida, malassezia caused by tinea versicolor.
Sertaconazole nitrate is used to treat skin infections caused by dermatophyte, yeast, Candida and aspergillus, such as tinea corporis, tinea pedis.
For more information of product, please send the email to [email protected]


After send online enquiry, we will reply you as soon as possible, if not get any response on time please contact us by Tel or Email.This form is unable to receive your inquiry from aol, hotmail, gmail or others but company email address.
E-MAIL:[email protected]
TEL: +86 592 536 5868
WHATSAPP: +86 189 6516 2351