Rosiptor Acetate(AQX-1125 Acetate)
Rosiptor Acetate(AQX-1125 Acetate)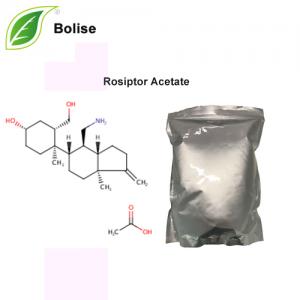 Synonym: (1S,3S,4R)-4-((3aS,4R,5S,7aS)-4-(Aminomethyl)-7a-methyl-1- methyleneoctahydro -1H – inden-5-yl)-3-(hydroxymethyl)-4-methylcyclohexanol, acetate
CAS NO.:782487-29-0
Synonyms: AQX-1125 Acetate
Molecular Formula:C22H39NO4
Molecular Weight: 381.557
Appearance: Solid powder
Solubility: Soluble in DMSO
Purity: ≥98.0%
Class: Anti-inflammatories; Immunotherapies; Small molecules
Mechanism of Action: Inositol-1,4,5-trisphosphate 5-phosphatase stimulants
Use:Interstitial cystitis treatment
About Rosiptor Acetate(AQX-1125 Acetate):
Rosiptor Acetate is useful in treating disorders and conditions that benefit from SHIP1 modulation, such as cancers, inflammatory disorders and conditions and immune disorders and conditions. Rosiptor Acetate is also useful in the preparation of a medicament for the treatment of such disorders and conditions.
For more information of product, please send the email to bkherb@globals-globals.com


After send online enquiry, we will reply you as soon as possible, if not get any response on time please contact us by Tel or Email.This form is unable to receive your inquiry from aol, hotmail, gmail or others but company email address.
E-MAIL:bkherb@globals-globals.com
TEL: +86 592 536 5868
WHATSAPP: +86 189 6516 2351