Rofecoxib
Rofecoxib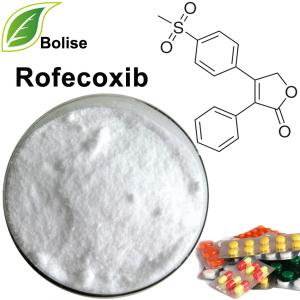 [ CAS No. ] 162011-90-7
[ Molecular Formula ] C17H14O4S
[ Molecular Weight ] 314.3557
[ Density  ]1.333g/cm3
[ Melting point ] 207°C
[ Boiling point ] 577.6°C at 760 mmHg
[ Refractive index ] 1.619
[ Flash point ] 303.1°C
[ Vapour Pressur ] 2.42E-13mmHg at 25°C
[ Appearance ]  White Powder
About Rofecoxib
Rofecoxib is in a class of drugs called nonsteroidal anti-inflammatory drugs (NSAIDs).
Rofecoxib works by reducing substances that cause inflammation, pain, and fever in the body.
Rofecoxib is used to reduce pain, inflammation, and stiffness caused by osteoarthritis, rheumatoid arthritis and certain forms of juvenile rheumatoid arthritis; to manage acute pain in adults; to treat migraines; and to treat menstrual pain.
For more information of product, please send the email to [email protected]


After send online enquiry, we will reply you as soon as possible, if not get any response on time please contact us by Tel or Email.This form is unable to receive your inquiry from aol, hotmail, gmail or others but company email address.
E-MAIL:[email protected]
TEL: +86 592 536 5868
WHATSAPP: +86 189 6516 2351