Rapamycin
Rapamycin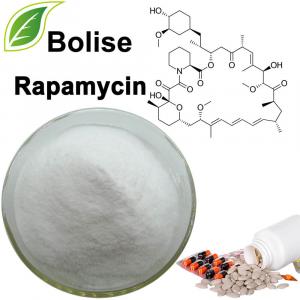 [ Other Name ]  Sirolimus
[ CAS No. ] 53123-88-9
[ Molecular Formula ]  C51H79NO13
[ Molecular Weight ]  914.187
[ Appearance ]  White crystals powder
[ Purity ]  99%
[ Function ]
1. Anti-inflammatory and sterilization;
2. Anti-immune response;
About Rapamycin
Rapamycin is a new type of macrolide immunosuppressant clinically. A novel and highly effective immunosuppressant, clinically used for the treatment of organ transplant rejection and autoimmune diseases. Rapamycin blocks signaling through different cytokine receptors and blocks the progression of T lymphocytes and other cells from G1 phase to S phase, thereby exerting an immunosuppressive effect.
Rapamycin is now often used as a drug to maintain the immunity of transplanted organs (especially kidney transplants) to slow down immune rejection after organ transplants, but scientists have recently discovered another use for it: in the treatment of Alzheimer's disease (senile dementia). What interested them was that the main component of rapamycin was also present in bacterial products in the isolated soil of Easter Island. The latest experiments showed that the application of this substance to the experimental mice can restore the ability of memory defects.
For more information of product, please send the email to [email protected]


After send online enquiry, we will reply you as soon as possible, if not get any response on time please contact us by Tel or Email.This form is unable to receive your inquiry from aol, hotmail, gmail or others but company email address.
E-MAIL:[email protected]
TEL: +86 592 536 5868
WHATSAPP: +86 189 6516 2351