Quercetin Dihydrate
Quercetin Dihydrate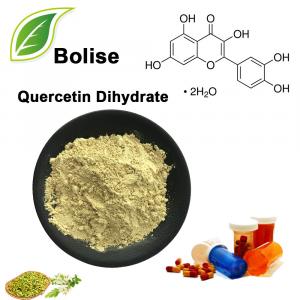 [ CAS NO. ] 6151-25-3
[ Molecular Formula ] C15H10O7 2H2O
[ Molecular Weight ] 338.2
[ Appearance ]  Yellow powder
[ Function ] 
1. Eliminating phlegm and relieving cough
2. Lower lipid and blood pressure
3. Increase blood capillary immunity
About Quercetin Dihydrate
Quercetin Dihydrate is a flavonoid widely distributed in nature. The name has been used since 1857, and is derived from quercetum (oak forest), after Quercus. It is a naturally-occurring polar auxin transport inhibitor. Quercetin Dihydrate is the aglycone form of a number of other flavonoid glycosides, such as rutin and quercitrin, foundin citrus fruit, buckwheat and onions. Quercetin Dihydrate forms the glycosides quercitrin and rutin together with rhamnose and rutinose, respectively. 
For more information of product, please send the email to [email protected]


After send online enquiry, we will reply you as soon as possible, if not get any response on time please contact us by Tel or Email.This form is unable to receive your inquiry from aol, hotmail, gmail or others but company email address.
E-MAIL:[email protected]
TEL: +86 592 536 5868
WHATSAPP: +86 189 6516 2351