Pyrroloquinoline Quinone (PQQ)
Pyrroloquinoline Quinone (PQQ)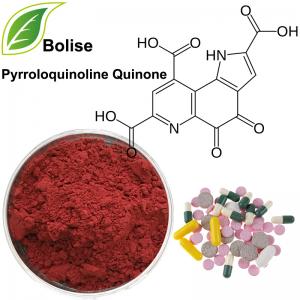 Cas No.: 72909-34-3
Synonyms: 4,5-Dihydro-4,5-dioxo-1H-pyrrolo[2,3-f]quinoline-2,7,9-tricarboxylic acid, Methoxatin, PQQ
Molecular Formula:C14H6N2O8
Formula Weight:330.21
Assay: ≥95.0% (HPLC)
Stability:Light and Temperature Sensitive
Appearance:Orange-Red Solid
Function: 
1. Comprehensively improve human immune function
2. Prevention and treatment of liver damage
3. Reduce the damage of free radicals to the human body
4. Condition various neurological diseases
5. Promote the absorption of amino acids
6. Prevention and treatment of Alzheimer's disease
7. Strong anti-cancer function
About Pyrroloquinoline Quinone (PQQ): 
Pyrroloquinoline Quinone (PQQ) is a naturally occurring redox cofactor of microbial quinoprotein enzyme, and imidazopyrroline,that acts as an essential nutrient, antioxidant, and has exert potent immunosuppressive effects.It is present in nanomolar quantities in most foods and in most animal tissuse.It is a potent antioxidant that scavenges superoxide and peroxinitrite.It is neuroprotectant against 6-hydroxydopamine-induced and hypoxia/ischemia-induced neurotoxicity. 
For more information of product, please send the email to sales@boliseco.com


After send online enquiry, we will reply you as soon as possible, if not get any response on time please contact us by Tel or Email.This form is unable to receive your inquiry from aol, hotmail, gmail or others but company email address.
E-MAIL:sales@boliseco.com
TEL: +86 592 536 5868
WHATSAPP: +86 189 6516 2351