Pyrroloquinoline Quinone Disodium Salt
Pyrroloquinoline Quinone Disodium Salt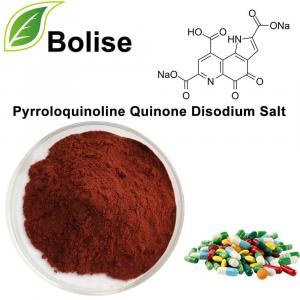 [ Other Name ] PQQ Disodium Salt
[ CAS No. ] 122628-50-6
[ Molecular Formula ] C14H4N2Na2O8
[ Molecular Weight ] 374.17
[ Purity ]  99% 
[ Appearance ] Reddish to reddish brown powder
[ Function ]
1. Increases cell energy
2. Prevents cognitive decline
3. Promote intellectual development
4. Anti-aging and antioxidant
5. Improve immunity
6. Can improve the metabolism of biological tissue and growth function
7. Acts as an antioxidant in your body, protecting your cells (and specifically your mitochondria) from damaging free radicals
[ Application ] Healthcare supplements
About Pyrroloquinoline Quinone Disodium Salt
Pyrroloquinoline quinone disodium salt is the more stable form of PQQ, which is more popular and can be used as a supplement and
nutrition. More than 80% of health products on the market use PQQ disodium salt.
Pyrroloquinoline quinone disodium salt has a variety of biological functions. It is not only a biological conditional nutrient and a redox regulator, but also a new prosthetic group, which can promote the growth of enzymes. It is responsible for the transmission function in the enzyme reaction and can stimulate the Microbial growth, so it is often used as a growth-promoting factor.
Pyrroloquinoline quinone disodium salt is used in the fields of anti-glycation and brain health medicine and food respectively. Like coenzyme Q10, it belongs to the prosthetic group of dehydrogenase, and its nutritional and efficacy value has been affirmed at home and abroad.
Pyrroloquinoline quinone disodium salt is a novel redox cofactor different from nicotinamide nucleotides and flavin nucleotides, which can catalyze redox reactions and promote the production and development of animals and plants. It has powerful antioxidant properties, and its antioxidant capacity far exceeds that of vitamin C and vitamin E.
For more information of product, please send the email to [email protected]


After send online enquiry, we will reply you as soon as possible, if not get any response on time please contact us by Tel or Email.This form is unable to receive your inquiry from aol, hotmail, gmail or others but company email address.
E-MAIL:[email protected]
TEL: +86 592 536 5868
WHATSAPP: +86 189 6516 2351