Phytol
Phytol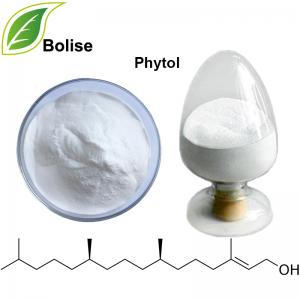 [ Synonyms ] 3,7,11,15-Tetramethyl-2-hexadecen-1-ol.  
[ CAS NO. ] 7541-49-3
[ Molecular Formula ] C20H40O 
[ Molecular weight ] 296.539
[ Appearance ] White crystal powder
[ Application ]
1. Biochemical research and synthesis of vitamin E and vitamin K1.
2. Synthesis of vitamin K1, vitamin E intermediates.
3. Used as a basic raw material for the production of vitamin K1, vitamin E and so on.
4. It can be used as a decoction agent for daily cosmetic formulations
5. For lipstick, lipstick, foundation stick, hair wax, eyebrow pencil, foundation, eyelid, rouge and other products, the use of a good feeling, good durability, and reduce the skin irritation. In addition, it can also be used as W/O emulsifier to make the cream stable and not easily degenerate. 
COA of Phytol
Assay:  99.36%
Boiling point:  204℃(1.33kPa)
Relative density:  0.8497
Refractive index: 1.4595
Solubility: Soluble in organic solvent, insoluble in water
About Phytol
Phytol is an acyclic diterpene alcohol that can be used as a precursor for the manufacture of synthetic forms of vitamin E and vitamin K1. In ruminants, the gut fermentation of ingested plant materials liberates phytol, a constituent of chlorophyll, which is then converted to phytanic acid and stored in fats. In shark liver it yields pristane.
Phytol has a good antioxidant effect, but also can be used as food emulsifiers, antioxidants, nutritional additives.
For more information of product, please send the email to bkherb@globals-globals.com


After send online enquiry, we will reply you as soon as possible, if not get any response on time please contact us by Tel or Email.This form is unable to receive your inquiry from aol, hotmail, gmail or others but company email address.
E-MAIL:bkherb@globals-globals.com
TEL: +86 592 536 5868
WHATSAPP: +86 189 6516 2351