Phycocyanin Powder
Phycocyanin Powder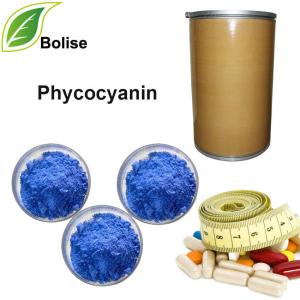 [ Specification ] 18 color Value
[ Plant source ] Spirulina
[ Appearance ] Blue Powder
[ Function and usage ]
1. Phycocyanin is a water-soluble pigment, non-toxic, pure blue, bright and lovely, and can be used as an additive for food colorants and cosmetics.
2. Phycocyanin can regulate the human immune system, enhance the function of the immune system, and improve the body's resistance to diseases.
3. Phycocyanin is blue and fluorescent, and can be used as a reagent for some photodynamic research in biology and cytology.
Application of Phycocyanin powder
1.Applied in natural food pigment;
2.Applied in pharmaceutical field;
3.Applied in cosmetic field;
About Phycocyanin powder
Phycocyanin is one of the rare pigments in nature. It is not only a bright color, but also a nutritious protein. Its amino acid composition is complete and its essential amino acid content is high.
Phycocyanin has the functions of anti-cancer, promoting blood cell regeneration, maintaining ovaries and promoting the synthesis of elastin in human body.
For more information of product, please send the email to [email protected]


After send online enquiry, we will reply you as soon as possible, if not get any response on time please contact us by Tel or Email.This form is unable to receive your inquiry from aol, hotmail, gmail or others but company email address.
E-MAIL:[email protected]
TEL: +86 592 536 5868
WHATSAPP: +86 189 6516 2351