Phosphatidylserine
Phosphatidylserine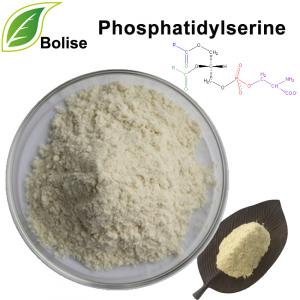 [ Appearance ] Yellow to brown powder
[ Main Functions ] 
1.Phosphatidylserine has effect on scavenging free radicals, anti-oxidation.
2.Phosphatidylserine can easily overcome the tensions resulting from mental stress.
3.Phosphatidylserine is used to improve older people's brain function, improve cognitive ability.
4.Phosphatidylserine has function of prevention and treatment of cardiovascular and cerebrovascular diseases.
5.Phosphatidylserine is used as a natural sebum control alcohol level of athletes to improve the training results.
6.Phosphatidylserine can extend the hours of children's attention, improve concentration and academicperformance,improving thestate of jelly.
About Phosphatidylserine
Phosphatidylserine is a phospholipid and it is a component of the cell membrane. Phosphatidylserine 20%, 50% and 70% are light yellow powders, soluble in most non-polar solvents and insoluble in anhydrous acetone. Phosphatidylserine powder is good for improving nerve cell functions, increasing blood flow to the brain, relieving stress and improving sleep.
 
For more information of product, please send the email to sales@boliseco.com


After send online enquiry, we will reply you as soon as possible, if not get any response on time please contact us by Tel or Email.This form is unable to receive your inquiry from aol, hotmail, gmail or others but company email address.
E-MAIL:sales@boliseco.com
TEL: +86 592 536 5868
WHATSAPP: +86 189 6516 2351