Pea Protein Powder
Pea Protein Powder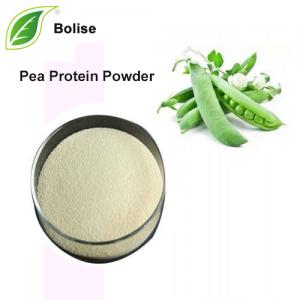 Appearance:Light Yellow powder
Main edible effects: Helps improve immunity, regulate gastrointestinal tract, fully supplement amino acids, promote post-surgical recovery, help slimming and promote collagen synthesis
Active Ingredient: protein
Specification: 80% 90% 
Benefits:
1.Contains 8 essential amino acids required by the human body
2.Produced by biological fermentation can retain almost all the nutrients
3.Does not contain estrogen, suitable for a wide range of people
4.Increase satiety and control weight
5.High biological valence
6.Can increase muscle
7.Contains no cholesterol and has low fat content
About Pea Protein Powder:
Pea protein powder is a high-quality protein extracted from peas by low-temperature and low-pressure technology using advanced technology. The pea protein contains 18 kinds of amino acids necessary for human body and belongs to full-price protein.
Pea protein powder can be added to cereal food as a nutritional supplement, such as bread, cakes, noodles, and nutritious rice noodles. It can also be added as a meat substitute to Western-style meat products such as ham sausage and red sausage.Pea Protein Powder is livestock, aquaculture and animal feed sector plant protein products of choice.
For more information of product, please send the email to bkherb@globals-globals.com


After send online enquiry, we will reply you as soon as possible, if not get any response on time please contact us by Tel or Email.This form is unable to receive your inquiry from aol, hotmail, gmail or others but company email address.
E-MAIL:bkherb@globals-globals.com
TEL: +86 592 536 5868
WHATSAPP: +86 189 6516 2351