Parthenolide
Parthenolide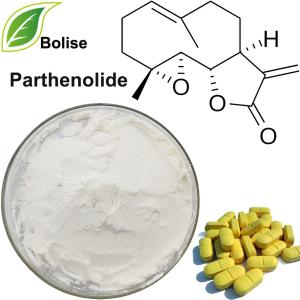 [ Botanical Source ] Magnolia liliflora Desr
[ CAS No. ] 20554-84-1
[ Molecular Formula ]  C15H20O3
[ Molecular Weight ] 248.32
[ Purity ] 95%~99%
[ Appearance ] White powder
[ Melting point ] 113 to 115 °C (235 to 239 °F; 386 to 388 K)
[ Function ]
1. Anti tumor
2. Antiviral
3. Anti inflammation and anti atherosclerosis
4. Treatment of migraine, fever and rheumatoid arthritis
About Parthenolide
Parthenolide is a natural product of sesquiterpene lactone, which is isolated from medicinal plants such as Chrysanthemum morifolium and tourmaline. These plants are widely used in fever, anthelmintic and anti-inflammatory. In recent years, studies have confirmed that parthenolide has a variety of important pharmacological activities, such as anti-tumor, anti-virus, anti-inflammatory and anti atherosclerosis, etc. In recent years, it has been found that Stevia plays an anti-cancer role in a variety of tumors, such as breast cancer, cholangiocarcinoma, pancreatic cancer, bladder cancer, prostate cancer, leukemia, melanoma and neurons.
Parthenolide is antisecretory, anti-inflammatory, spasmolytic and inhibits the release of 5-HT from blood platelets. Also inhibits generation of leukotriene B4 and thromboxane B2.
For more information of product, please send the email to [email protected]


After send online enquiry, we will reply you as soon as possible, if not get any response on time please contact us by Tel or Email.This form is unable to receive your inquiry from aol, hotmail, gmail or others but company email address.
E-MAIL:[email protected]
TEL: +86 592 536 5868
WHATSAPP: +86 189 6516 2351