Oleanolic Acid
Oleanolic Acid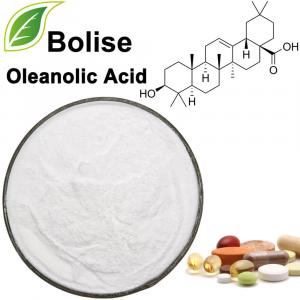 [ Other Name ] Oleanic Acid
[ CAS No. ] 508-02-1
[ Molecular Formula ] C30H48O3
[ Molecular Weight ] 456.711
[ Appearance ] White Powder
[ Purity ]  60% 70% 98%
[ Function ] 
1. Alleviate liver injury: Oleanolic acid is a pentacyclic triterpenoid compound, which has obvious protective effect on acute and chronic liver injury in rats caused by carbon tetrachloride.
2. Reduce the activity of plasma alanine aminotransferase: Oleanolic acid has obvious effect on reducing the enzyme in animals with acute and chronic hepatitis and liver cirrhosis.
3. Serum r-globulin was decreased, and was consistent with a reduction in liver-related inflammatory responses observed by histology.
4. Promote the regeneration of hepatocytes: Oleanolic acid can significantly increase the number of mitotic phases in the residual liver of rats, and the regeneration degree is higher than that of the control group, suggesting that it has the effect of promoting cell regeneration.
5. Reducing the level of tyrosine in brain homogenate of liver cirrhosis rats: Since the level of tyrosine in brain homogenate is significantly reduced, it can inhibit the generation of pseudo-neurotransmitters, so it is beneficial to the prevention and treatment of hepatic encephalopathy.
6. Inhibition of hepatic fibrosis: In hepatic fibrotic rats treated with oleanolic acid, hepatic fibrosis was severe and significantly alleviated, and the content of hepatic collagen decreased, suggesting that it has the effect of preventing and treating liver cirrhosis.
7. Oleanolic acid has obvious inhibitory effects on mouse mononuclear phagocyte system, macrophage phagocytic function and experimental arthritis, but has effects on heterosexual humoral immune function and antigen-binding cells. Enhance immunity and inhibit the growth of S180 tumor line.
8. It has a protective effect on chromosomal damage, has a preventive effect on experimental atherosclerosis, and can also correct protein metabolism disorders.
About Oleanolic Acid
Oleanolic acid is a kind of pentacyclic triterpenoid compound which is isolated and extracted from the fruit of the whole herb of the gentian plant sagebrush or the fruit of Ligustrum lucidum. It exists in free form and glycoside in poly In plants, it has become a commonly used hepatoprotective drug in clinical practice. Oleanolic acid has the functions of anti-inflammatory, sedative, cardiotonic, diuretic, hypolipidemic, hypoglycemic, protecting liver and lowering enzymes, enhancing immunity and inhibiting the growth of S180 tumor strain.
Oleanolic acid mainly has the functions of protecting the liver and reducing enzymes, promoting the regeneration of liver cells, anti-inflammatory, strengthening the heart, diuretic, anti-tumor, etc. It is an active ingredient in the development of drugs such as liver disease and hypoglycemia.

After send online enquiry, we will reply you as soon as possible, if not get any response on time please contact us by Tel or Email.
E-mail: [email protected]
Tel: +86 592 536 5868
Whatsapp: +86 189 6516 2351
For more information of product, please send the email to [email protected]

1. Send Message to US ->
2. Confirm Product Information ->
3. Order & Payment->
4. Packaging&Shipping->
Our products have been certificated with the ISO certificate, free sample is available.
CGMP Manufacturer to ensure the quality stable and reliable.
All of our ingredients meet strict quality and food safety standards, and surpass industry standards for purity and cleanliness.
We are committed to meeting customers' unique needs by providing comprehensive and professional service, enjoying a good reputation among our business partners and customers for high-quality products, excellent after-sales services, competitive prices, and prompt shipping.
Highly welcome friends from all over the world to contact us. We will reply to you as soon as possible, ​after sending an online inquiry. And please feel free to call us if any urgent inquiry or without getting response from us in time.