N-Acetylneuraminic Acid
N-Acetylneuraminic Acid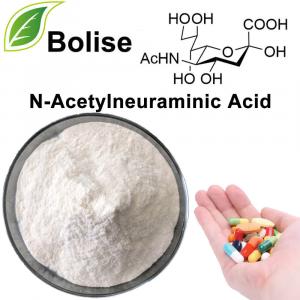 [ CAS No. ] 131-48-6
[ Molecular Formula ] C11H19NO9
[ Molecular Weight ] 309.273
[ Purity ]  98%
[ Melting point ] 184-186ºC
[ Appearance ] White crystalline powder
[ Function ]
1. Improve infant intelligence and memory.
2. Anti-senile dementia.
3. Improve human immunity.
4. Improve intestinal absorption of vitamins and minerals.
[ Application ] 
1. Can be used as a nutritional supplement.
2. Can be used as a food additive.
About N-Acetylneuraminic Acid
N-Acetylneuraminic acid (Neu5Ac or NANA) is the predominant sialic acid found in human cells, and many mammalian cells.
N-Acetylneuraminic Acid is a naturally occurring carbohydrate. Sialic acid exists in large quantities in pigs, cattle, sheep and other animals, and has the functions of improving infant intelligence and memory, anti-senile dementia, and improving human immunity. It is widely used in food, health care products and other fields.
For more information of product, please send the email to [email protected]


After send online enquiry, we will reply you as soon as possible, if not get any response on time please contact us by Tel or Email.This form is unable to receive your inquiry from aol, hotmail, gmail or others but company email address.
E-MAIL:[email protected]
TEL: +86 592 536 5868
WHATSAPP: +86 189 6516 2351