Milbemycin Oxime
Milbemycin Oxime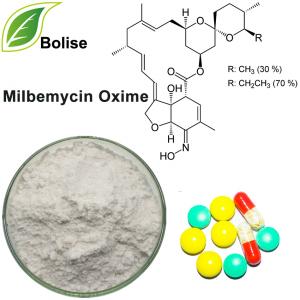 [ CAS.NO. ] 129496-10-2
[ Molecular Weight ]
541.68 g/mol (30%)
555.702 g/mol (70%)
[ Molecular Formula ]
C31H43NO7 (30%)
C32H45NO7 (70%) 
[ Appearance ] White Crystalline Powder
[ Purity ] 99% 
About Milbemycin Oxime
Milbemycin oxime is a broad-spectrum parasite drug resistance, in vivo and in vitro parasite especially nematodes and arthropods have good displacement effect.Milbemycin oxime is a new type of semisynthetic large ring lactone class anthelmintic, mir shellfish toxin is A3 and A4 oxime derivatives, the most common parasitic disease control and prevention has very good effect.
For more information of product, please send the email to sales@boliseco.com


After send online enquiry, we will reply you as soon as possible, if not get any response on time please contact us by Tel or Email.This form is unable to receive your inquiry from aol, hotmail, gmail or others but company email address.
E-MAIL:sales@boliseco.com
TEL: +86 592 536 5868
WHATSAPP: +86 189 6516 2351