Maslinic Acid
Maslinic Acid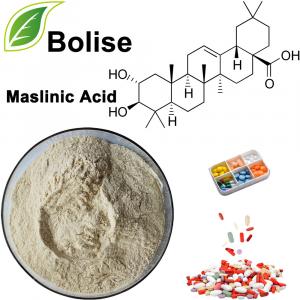 [ CAS No. ] 4373-41-5
[ Molecular Formula ] C30H48O4
[ Molecular Weight ] 472.710
[ Herb Sourse ]  Olea Europaea L.; Hawthorn
[ Appearance ] Light Yellow Powder
[ Function ]
·Dilating coronary artery, Maslinic acid can improve myocardial blood and decrease myocardium oxygen consumption, thus preventing ischemic heart disease; 
·Inhibiting thyroid peroxidase, anticancer and antibacterial; 
·Maslinic acid can decreaseg blood lipid,inhibiting platelet aggregation and spasmolysis; 
·Scavenging free radicals and enhancing the immunity;
About Maslinic Acid
Maslinic acid is one of the main triterpenes present in olive trees and it is one of the most studied natural active ingredients in recent times because of its significant beneficial health properties and its numerous potential applications. 
In recent years, found that hawthorn acid has anti-cancer, anti-oxidation, anti-HIV, anti-bacterial, anti-diabetic and other biological activity, which has aroused interest in the study.
For more information of product, please send the email to [email protected]


After send online enquiry, we will reply you as soon as possible, if not get any response on time please contact us by Tel or Email.This form is unable to receive your inquiry from aol, hotmail, gmail or others but company email address.
E-MAIL:[email protected]
TEL: +86 592 536 5868
WHATSAPP: +86 189 6516 2351