Lumbrokinase
Lumbrokinase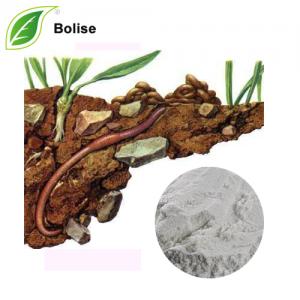 CAS No.: 556743-18-1
Other name:Bolucke;Lumbrokinasum
Appearance:Gray to off-white powder
Application:
1. Treating and preventing cerebral thrombus;
2. Treating miocardial infarction;
3. Preventing high blood viscosity;
4. Treating angina pectoris, cerebral infarction, diabetes, nephrotic syndrome, pulmonary heart disease and
deep vein thrombosis;
About Lumbrokinase:
Lumbrukinase extracted from earthworm alimentary canal.Lumbrokinase is a fibrinolytic enzyme present in the earthworm Lumbricus bimastus. It has been investigated as an experimental antithrombotic agent.
Lumbrokinase helps maintain a healthier blood,lower blood viscosity and support cardiovascular health. Lumbrokinase helpd maintain a healthy balance between hemolysis and hemodtasis,improves micro-circulation,repairs damaged nerve cells and reduce blood sugar.
Lumbrukinase has been proven to have good clinical value. It is a multi-molecular recombinant oral preparation with special affinity for thrombus (fibrin), which can track thrombolysis, effectively dissolve microemboli, improve microcirculation, strengthen the collateral circulation of the heart and cerebrovascular, openly repair the damaged vascular endothelial cell, increase the elasticity of vasculars, improve the oxygen supply function of vasculars, reduce the viscosity of blood, reduce the aggregation rate of platelets, inhibit the re-formation of thrombus, repair peripheral necrotic brain cells after thrombosis and save the penumbra. It has been widely used in clinical practice and is increasingly used in the prevention and treatment of diseases such as heart, cerebrovascular, endocrine, and respiratory diseases.
For more information of product, please send the email to bkherb@globals-globals.com


After send online enquiry, we will reply you as soon as possible, if not get any response on time please contact us by Tel or Email.This form is unable to receive your inquiry from aol, hotmail, gmail or others but company email address.
E-MAIL:bkherb@globals-globals.com
TEL: +86 592 536 5868
WHATSAPP: +86 189 6516 2351