Lithium Orotate
Lithium Orotate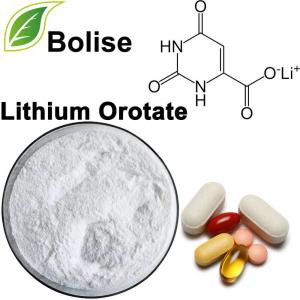 [ CAS NO. ] 5266-20-6
[ Molecular Formula ] C5H3LiN2O4
[ Molecular Weight ] 162.03
[ Melting Point ] 345~346℃
[ Function ]
1. Promote a positive mental outlook;
2. Support detoxification enzymes in the brain;
3. Boost neurotransmitter activity;
About Lithium Orotate
Lithium orotate is also known as vitamin B13. White and shiny needle-like crystals or crystalline powder obtained from water, odorless, with sour taste. Insoluble in cold water and ethanol, slightly soluble in hot water. With hydrogen peroxide and concentrated hydrochloric acid to generate 5-chlorouracil-4-carboxylic acid. It can be obtained by condensation of diethyl oxalate and ethyl acetate into diethyl butanone, which is obtained by hydrolysis after cyclization with urea. It is used in medicine to treat jaundice and general liver dysfunction.
Lithium orotate has calming properties and relieves stress by replenishing minerals needed by the brain.

After send online enquiry, we will reply you as soon as possible, if not get any response on time please contact us by Tel or Email.
E-mail: [email protected]
Tel: +86 592 536 5868
Whatsapp: +86 189 6516 2351
For more information of product, please send the email to [email protected]

1. Send Message to US ->
2. Confirm Product Information ->
3. Order & Payment->
4. Packaging&Shipping->
Our products have been certificated with the ISO certificate, free sample is available.
CGMP Manufacturer to ensure the quality stable and reliable.
All of our ingredients meet strict quality and food safety standards, and surpass industry standards for purity and cleanliness.
We are committed to meeting customers' unique needs by providing comprehensive and professional service, enjoying a good reputation among our business partners and customers for high-quality products, excellent after-sales services, competitive prices, and prompt shipping.
Highly welcome friends from all over the world to contact us. We will reply to you as soon as possible, ​after sending an online inquiry. And please feel free to call us if any urgent inquiry or without getting response from us in time.