Lactoferrin (LF)
Lactoferrin (LF)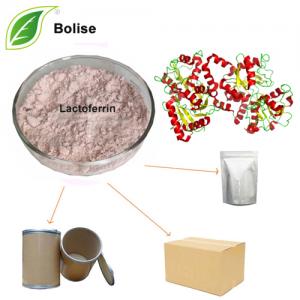 CAS NO.:234096-34-5
Molecular Formula:C27H47N7O6
Molecular Weight: 565.71
Appearance:pale pink powder
Purity:99%min
Source:milk
Function: 
1. Participate in iron metabolism and promote iron absorption. 
2. Antithrombotic effect
3. Antibacterial effect
4. Immune regulation and anti-infection
5. Anti-cancer effect.
6. Anti-oxidation effect. 
7. As a cell growth factor
8. Inhibit cholesterol accumulation and participate in lipid metabolism
9. Regulate gene transcription
10. Analgesic effect
About Lactoferrin:
Lactoferrin (LF), also known as lactotransferrin (LTF), is a multifunctional protein of the transferrin family. Lactoferrin is a protein found naturally in milk and several other fluids in the body (such as saliva, tears, mucus, and bile).Lactoferrin has broad application prospects in disease prevention, nutritional supplementation, food and drug preservation, and cosmetics.
Lactoferrin's main functions in the body include binding with iron and transporting it around the body, and fighting infections. Also available in dietary supplement form, lactoferrin has been found to offer antioxidant and anti-inflammatory effects.
For more information of product, please send the email to bkherb@globals-globals.com


After send online enquiry, we will reply you as soon as possible, if not get any response on time please contact us by Tel or Email.This form is unable to receive your inquiry from aol, hotmail, gmail or others but company email address.
E-MAIL:bkherb@globals-globals.com
TEL: +86 592 536 5868
WHATSAPP: +86 189 6516 2351