L-Lysine HCL(L-Lysine Hydrochloride)
L-Lysine HCL(L-Lysine Hydrochloride)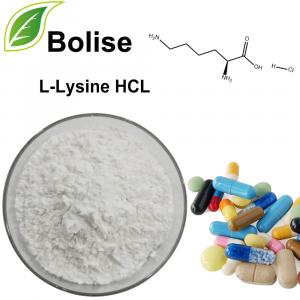 [ CAS No. ]  657-27-2
[ Molecular Formula ] C6H14N2O2•HCL
[ Molecular Weight ]  182.65
[ Purity ] 99%min
[ Appearence ] White powder
[ Function ] 
A:Improve intelligence, promote growth, enhance physical fitness.
B:Increase appetite, improve malnutrition.
C:Help produce antibodies, hormones and enzymes to enhance immunity, increase hemoglobin.
D:Helps calcium absorption.
About L-Lysine HCL(L-Lysine Hydrochloride)
L-Lysine HCl is highly purified to 98% after fermentation.
L-Lysine HCL is one of the essential amino acids in the human body, which can promote human development, enhance immune function, and improve the function of central nervous tissue. Lysine is a basic essential amino acid. Because the lysine content in cereals is very low, and it is easily destroyed and lacking during processing, it is called the first restricted amino acid.
For more information of product, please send the email to [email protected]


After send online enquiry, we will reply you as soon as possible, if not get any response on time please contact us by Tel or Email.This form is unable to receive your inquiry from aol, hotmail, gmail or others but company email address.
E-MAIL:[email protected]
TEL: +86 592 536 5868
WHATSAPP: +86 189 6516 2351