Kaempferol(3,4′,5,7-tetrahydroxyflavone)
Kaempferol(3,4′,5,7-tetrahydroxyflavone)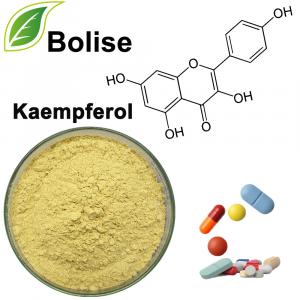 [ Cas No. ]  520-18-3
[ Molecular Formula ]  C15H10O6
[ Molecular Weight ]  286.23 
[ Density ] 1.688 g/mL
[ Melting point ]  276–278 °C
[ Appearance ] Yellow Powder
[ Function ] 
1. Anti-cancer:  
2.Anti-infection and anti-inflammation: 
3. Preventing atherosclerosis: 
4. Prevention and treatment of diabetes: 
[ Application ]
1. Applied in pharmaceutical field; 
2. Applied in health care products field; 
3. Applied in food and beverage field;
About Kaempferol(3,4′,5,7-tetrahydroxyflavone)
Kaempferol, also known as kaempferol-3, kaempferol, hawthorn flavonol, tetrahydroxyflavone, and cymene III, is a flavonoid compound with a molecular structure of C15H10O6 and a relative molecular weight of 286.23. 
Kaempferol is mainly derived from the roots of the genus Kaempferol galanga L. It is widely found in various fruits, vegetables and beverages. It has been extracted from tea, broccoli, witch hazel, propolis, grapefruit and other green plants. Pure. Because of its anti-cancer,anti-cancer, anti-inflammatory, anti-oxidation, anti-bacterial, anti-viral and other effects, it has received widespread attention.
For more information of product, please send the email to [email protected]


After send online enquiry, we will reply you as soon as possible, if not get any response on time please contact us by Tel or Email.This form is unable to receive your inquiry from aol, hotmail, gmail or others but company email address.
E-MAIL:[email protected]
TEL: +86 592 536 5868
WHATSAPP: +86 189 6516 2351