Iron Citrate(Ferric Citrate)
Iron Citrate(Ferric Citrate)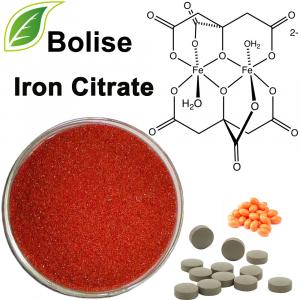 [ Other name ] Iron(III) citrate
[ CAS No. ] 3522-50-7
[ Molecular formula ] C6H5FeO7
[ Molecular weight ] 244.94
[ Appearance ]  Dark orange-red brown solid
About Iron Citrate(Ferric Citrate)
Ferric citrate, also known as triiron citrate, reddish brown transparent flakes crystal, or crystalline powder, insoluble in ethanol, slowly dissolved in cold water, soluble in hot water. Ferric citrate is an edible citrate commonly used as an additive or sour agent for food and feed. Ferric citrate is widely used as a food iron fortifier and nutritional supplement in the field of food science; in the field of medicine, it can be used as a radiopharmaceutical for checking abnormal iron metabolism and hematopoietic function; it can also be used as a feed additive.
For more information of product, please send the email to [email protected]


After send online enquiry, we will reply you as soon as possible, if not get any response on time please contact us by Tel or Email.This form is unable to receive your inquiry from aol, hotmail, gmail or others but company email address.
E-MAIL:[email protected]
TEL: +86 592 536 5868
WHATSAPP: +86 189 6516 2351