Hypericin
Hypericin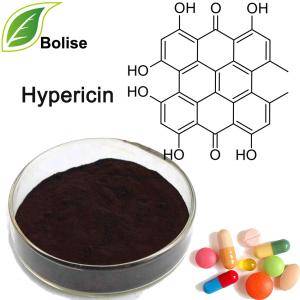 [ Cas No. ] 548-04-9
[ Molecular Formula ] C30H16O8
[ Formula Weight ] 504.45
[ Appearance ]  Brown Black Fine Powder
[ Botanical Source ] the mealy bug Nipaecoccus aurilanatus. Widespread in Hypericum spp. esp. Hypericum perforatum (St John's wort)
[ Purity ] 95%~99%
[ Usage ] For the determination and identification, pharmacological experiments
About Hypericin
Hypericin is a naphthodianthrone, a red-colored anthraquinone-derivative, which, together with hyperforin, is one of the principal active constituents of Hypericum (Saint John's wort). Hypericin is believed to act as an antibiotic, antiviral and non-specific kinase inhibitor. Hypericin may inhibit the action of the enzyme dopamine β-hydroxylase, leading to increased dopamine levels, although thus possibly decreasing norepinephrine and epinephrine.
For more information of product, please send the email to sales@boliseco.com


After send online enquiry, we will reply you as soon as possible, if not get any response on time please contact us by Tel or Email.This form is unable to receive your inquiry from aol, hotmail, gmail or others but company email address.
E-MAIL:sales@boliseco.com
TEL: +86 592 536 5868
WHATSAPP: +86 189 6516 2351