Hyodeoxycholic Acid
Hyodeoxycholic Acid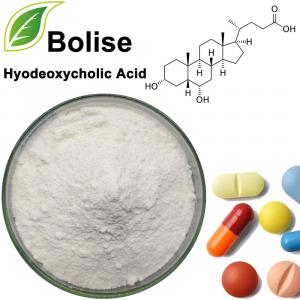 [ Synonyms ] 3alpha,6alpha-Dihydroxy-5beta-cholan-24-oic acid
[ CAS NO. ] 83-49-8
[ Molecular Formula ]  C24H40O4
[ Formula Weight ] 392.57
[ Appearance ] White powder
[ Usage ] It is isolated from pig bile. Antitumor agent
About Hyodeoxycholic Acid
Hyodeoxycholic acid , also known as 3α, 6α-Dihydroxy-5β-cholan-24-oic acid or HDCA , is a secondary bile acid , one of the metabolic byproducts of intestinal bacteria .Hyodeoxycholic acid could be used to synthesize progesterone to prevent cholesterol-induced gallstones.
It is the main acid constituent of hog bile, and for this reason it was used industrially as precursor for steroid synthesis before total synthesis became practical.
For more information of product, please send the email to [email protected]


After send online enquiry, we will reply you as soon as possible, if not get any response on time please contact us by Tel or Email.This form is unable to receive your inquiry from aol, hotmail, gmail or others but company email address.
E-MAIL:[email protected]
TEL: +86 592 536 5868
WHATSAPP: +86 189 6516 2351