Hydrolyzed Keratin Peptide Powder(Hydrolysed Keratin Peptide powder)
Hydrolyzed Keratin Peptide Powder(Hydrolysed Keratin Peptide powder)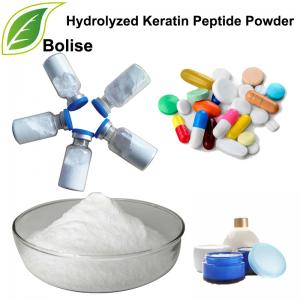 [ Specification ] 98%
[ Appearance ]  Canary yellow or light yellow powder
[ Application ]
1. In feed and food industrial
2. In pharmaceuticals
[ Uses ]  
1. Release insulin, 
2. Release growth hormone. The most important of the branched chain amino acids are the leucine, the precursor of ketoisocaproic acid (KIC) and HMB. KIC and HMB increase muscle mass, reduce fat, and provide nutrition to the body.
About Hydrolyzed Keratin Peptide Powder(Hydrolysed Keratin Peptide powder)
Hydrolyzed keratin peptide is a small molecule peptide which is made from natural keratin such as wool and subjected to bio-enzyme cutting technology.
Hydrolyzed keratin peptide is active ingredient for various cosmetic products like e.g hair care products and nail care products and for production of professional hair cosmetics appropriated to protection before damaging effects of oxidizers (coloring) as well as reducers (perm) and to intensive regeneration of scalp and hair damaged by hairdressers manipulations.
Hydrolyzed Keratin Peptide contains abundant unsaturated fatty acids which occupy about 72.5% of the total fat. The unsaturated fatty acids play a very important role to maintain human well-balanced physiological function: Keep relative fluidity of membrane to maintain the well-balanced physiological function of cells. Esterifies the cholesterol, reduce the cholesterol and triglyceride in blood. It's an essential material to promote infants growth and human prostaglandin synthesis. Reduce viscosity of blood, improve micro circulation of blood. Strengthen vitality of cell, memory and ideation. Promote the digestive absorption of fat-soluble vitamins. It also has an obvious effect on controlling prostatic hyperplasia.
For more information of product, please send the email to [email protected]


After send online enquiry, we will reply you as soon as possible, if not get any response on time please contact us by Tel or Email.This form is unable to receive your inquiry from aol, hotmail, gmail or others but company email address.
E-MAIL:[email protected]
TEL: +86 592 536 5868
WHATSAPP: +86 189 6516 2351