Glucosamine HCL(Glucosamine Hydrochloride)
Glucosamine HCL(Glucosamine Hydrochloride)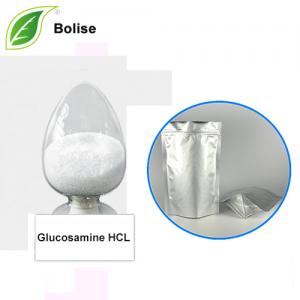 CAS NO.: 66-84-2
Molecular Formula:C6H14O5NCl
Purity:99%
Appearance:White Crystalline Powder
Function:
1.Can Rehabilitate the attrited arthrosis cartilage,is a key structural component in cartilage and acts as a lubricant.
2.Can enhance the immunity.
3.Can improve osteoporosis.
4.Can cure neuralgia, arthralgia and process the concrescence of wounds. 
About Glucosamine HCL(Glucosamine Hydrochloride): 
Glucosamine HCL comes from chitin or shellfish,is an organic compound that naturally occurs in the cartilage. Glucosamine HCL is generally about 75–80% total glucosamine. Studies show that glucosamine stimulates faster re-growth of cartilage, ligaments and other muscle motivators. It also has other functions, principally in the area of growth and replenishment. It is involved in the formation of tissue of the eyes, skin and bone, among others, and aids in the formation of synovial fluid, the substance that helps lubricate joints.
Glucosamine HCL is the major raw material for compounding antibiotics and anti-cancer drugs. It can also be applied as additives of food, cosmetics, and feed, with very wide application. 
Packing: 25kg net cardboard drum lined with polyethylene bag inside.
Storage Conditions:
Store in well-closed containers at room temperature. Protect from heat, light and ,moisture.
For more information of product, please send the email to bkherb@globals-globals.com


After send online enquiry, we will reply you as soon as possible, if not get any response on time please contact us by Tel or Email.This form is unable to receive your inquiry from aol, hotmail, gmail or others but company email address.
E-MAIL:bkherb@globals-globals.com
TEL: +86 592 536 5868
WHATSAPP: +86 189 6516 2351