Gallic Acid
Gallic Acid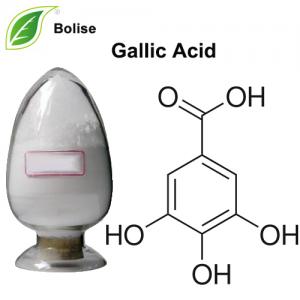 [ Botanical Name ] Galla chinensis
[ Synonyms ] 3,4,5-Trihydroxybenzoic acid
[ Used Part ] Gall
[ CAS No. ] 149-91-7
[ Molecular Formula ] C7H6O5
[ Molecular weight ]  170.12
[ Appearance ] White Fine Powder
[ Density  ]1.694 g/cm3 (anhydrous)
[ Melting point ] 260 °C (500 °F; 533 K)
[ Solubility in water ]
1.19 g/100 mL, 20°C (anhydrous)
1.5 g/100 mL, 20 °C (monohydrate)
[ Solubility ] soluble in alcohol, ether, glycerol, acetone negligible in benzene, chloroform, petroleum ether
[ Assay ] ≥99%
[ Test Method ]  UV
COA of Gallic Acid
Loss On Drying: ≤10%
Total Plate Count: ≤1000cfu/g
Yeast&Mold: ≤100cfu/g
E.coil: Negative
Salmonella: Negative
Function of Gallic Acid
1. With the function of antioxidant and antimicrobial;
2. It has the effect on improving the body disease-resistant ability, liver and gastrointestinal system function ;
3. With the function of treating chronic diarrhea and dysentery;
4. With the function of dispelling heat, eliminating irritability, diuretic, cooling blood and detoxification;
5. With the function of enhancing immunity.
About Gallic Acid
Gallic acid is an organic acid, also known as 3, 4, 5-trihydroxybenzoic acid, found in gallnuts, sumac, witch hazel, tea leaves, oak bark, and other plants. The chemical formula is C6H2(OH)3CO2H. Gallic acid is found both free and as part of tannins. It is commonly used in the pharmaceutical industry. Gallic acid can also be used to synthesize the hallucinogenic alkaloid mescaline, also known as 3, 4, 5-trimethoxyphenethylamine. Salts and esters of gallic acid are termed gallates.
[ Packing ]  Packed in paper-drums and two plastic-bags inside. N.W:25kgs .I.D.35×H51cm;
[ Storage ]  Keep in cool & dry place. Keep away from strong light and heat.
[ Shelf life ]  24 months under the conditions above and in its original packaging.
For more information of product, please send the email to bkherb@globals-globals.com


After send online enquiry, we will reply you as soon as possible, if not get any response on time please contact us by Tel or Email.This form is unable to receive your inquiry from aol, hotmail, gmail or others but company email address.
E-MAIL:bkherb@globals-globals.com
TEL: +86 592 536 5868
WHATSAPP: +86 189 6516 2351