γ-Aminobutyric Acid
γ-Aminobutyric Acid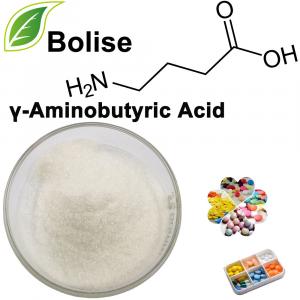 [ Other name ]  Gamma-Aminobutyric Acid,GABA
[ CAS NO. ]  56-12-2
[ Molecular Formula ]  C4H9NO2
[ Molecular Weight ] 103.12
[ Appearance ]  white crystal or crystalline powder
About γ-Aminobutyric Acid
γ-Aminobutyric Acid is a non-protein amino acid that functions as a neurotransmitter (a chemical that facilitates communication between neurons). Neurotransmitters are either "excitatory" (i.e. they stimulate the firing of a neuron) or "inhibitory" (i.e., they tend to suppress neuron firing). GABA, which is produced from glutamate, is an inhibitory neurotransmitter. In fact, it's the primary inhibitory neurotransmitter in the brain.
The foods contain γ-aminobutyric acid (GABA) at an amount that shows immediate effect of suppressing autonomic nerve activity related to blood pressure increase. Reacts with isothiocyanates to produce thioureas which have antifungal activity.
For more information of product, please send the email to [email protected]


After send online enquiry, we will reply you as soon as possible, if not get any response on time please contact us by Tel or Email.This form is unable to receive your inquiry from aol, hotmail, gmail or others but company email address.
E-MAIL:[email protected]
TEL: +86 592 536 5868
WHATSAPP: +86 189 6516 2351