Fenbendazole
Fenbendazole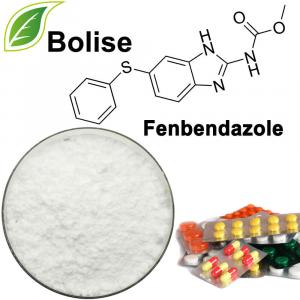 [ CAS No. ] 43210-67-9
[ Molecular Formula ]     C15H13N3O2S
[ Molecular Weight ] 299.35
[ Appearance ] White powder
[ Application ]
Anthelmintic. Broad-spectrum, high efficiency, low toxicity, antiparasitic. It has a strong killing effect on Roundworm, nematodes, tapeworms, cysticercosis , Fasciola and other parasites, not only killing worms, especially having a great effect on Transitional larvae ehich are hazardous to the liver, lungs and intestines .
About Fenbendazole
Fenbendazole is a benzimidazole anthelmintic, not only having a highly anthelmintic activity for gastrointestinal nematodes adults and larvae , but also having a good effect on dictyocaulasis, flukes and tapeworms.It can damage the microtubules of the worms epithelial cells of the gastrointestinal tract, and inhibit the worms uptake of glucose from the intestine,in addition,it has a strong killing eggs effect.
For more information of product, please send the email to [email protected]


After send online enquiry, we will reply you as soon as possible, if not get any response on time please contact us by Tel or Email.This form is unable to receive your inquiry from aol, hotmail, gmail or others but company email address.
E-MAIL:[email protected]
TEL: +86 592 536 5868
WHATSAPP: +86 189 6516 2351