Ethamsylate
Ethamsylate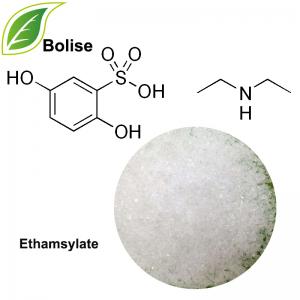 [ CAS NO. ] 2624-44-4 
[ Molecular Formula ] C10H17NO5S 
[ Molecular weight ] 263.308
[ Appearance ] White crystalline powder
COA of Ethamsylate
Solubility: Very soluble in water,freely soluble in Methanol,soluble in ethanol,practically insoluble in methylene chloride.
Identification: 
(A)MP:127℃~134℃
(B)IR:According to criterion
(C)UV:According to criterion
(D)Chemical Reaction
PH: 4.5~5.6
Appearance of solution: Clear and colourless
Loss on drying: ≤0.5%
Assay(on dried basis): 99.0%~101.0%
Sulfated ash: ≤0.1%
Heavy Metals:  ≤15ppm
Iron:  ≤10ppm
Endotoxin:  Not more than 0.5EU/mg
Total plate count: ≤100cfu/g
Mold,Yeast total: ≤50cfu/g
Application of Ethamsylate
Ethamsylate is indicated to prevent and cure bleeding before and after operation, the bleeding aroused by the dysfunction of platelet or the rise fragility of  blood vessels, internal hemorrage brought by angiopsathyrosis, cerebral hemorrage induced by hyperpiesia and fundus hemorrage nasal bleeding.
About Ethamsylate
Ethamsylate is a haemostatic drug. It is believed to work by increasing capillary endothelial resistance and promoting platelet adhesion. It also inhibits biosynthesis and action of those prostaglandins which cause platelet disaggregation, vasodilation and increased capillary permeability.
Besides, Ethamsylate is not only a haemostatic agent but also promotes angioprotective and proaggregant action. It stimulates thrombopoiesis and their release from bone marrow. Haemostatic action is due to activation of thromboplastin formation on damaged sites of small blood vessels and decrease of PgI2 (Prostacyclin I2) synthesis; it also facilitates platelet aggregation and adhesion, that at last induce decrease and stop of hemorrhage.
[ Storage ]  Stored in dry and cool place, keep away from strong light and heat.
[ Shelf Life ]  Three years when stored properly.
For more information of product, please send the email to bkherb@globals-globals.com


After send online enquiry, we will reply you as soon as possible, if not get any response on time please contact us by Tel or Email.This form is unable to receive your inquiry from aol, hotmail, gmail or others but company email address.
E-MAIL:bkherb@globals-globals.com
TEL: +86 592 536 5868
WHATSAPP: +86 189 6516 2351