Ecdysone
Ecdysone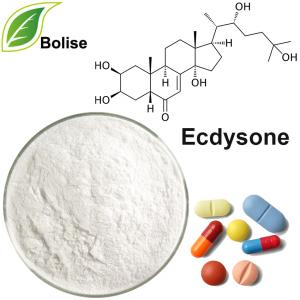 [ Botanical Resource ]  Cyanotis arachnoidea C.B.Clarke
[ IUPAC name ] 
(22R)-2β,3β,14α,22,25-pentahydroxy-5β-cholest-7-en-6-one
[ CAS No. ] 3604-87-3
[ Molecular Formula ] C27H44O6
[ Molecular Weight ] 464.63
[ Appearance ] white or off-white powder
[ Application ] 
1. Health product Synthesizing proteins and lower the blood pressure.
2. Comestic industry Prevent wrinkles
3. Applid to sericulture
[ Purity ] >=98%
About Ecdysone
Ecdysone is a steroidal prohormone of the major insect molting hormone 20-hydroxyecdysone.Ecdysone can promote cell growth, stimulate the dermal cell division, the human body is also to Ecdysone promote the role of protein synthesis.Ecdysone can be used in health product tohelp synthesizing proteins and low ther blood pressure. It's also applied to comestic industry.
For more information of product, please send the email to [email protected]


After send online enquiry, we will reply you as soon as possible, if not get any response on time please contact us by Tel or Email.This form is unable to receive your inquiry from aol, hotmail, gmail or others but company email address.
E-MAIL:[email protected]
TEL: +86 592 536 5868
WHATSAPP: +86 189 6516 2351