Drotaverine Hydrochloride
Drotaverine Hydrochloride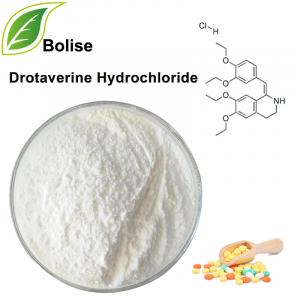 [ CAS No. ] 985-12-6
[ Molecular Formula ] C24H32ClNO4
[ Molecular Weight ] 433.97
[ Appearance ] White powder
[ Purity ] 99%min
[ Melting point ] 208-212°C
Function of Drotaverine Hydrochloride
1.Antioxidant with potential anti-cancer activity
2.Lower one'sblood sugar level, suppress the appetite, lower blood pressure, and reduce levels of visceral fat
3.Act as an effective painkiller especially for migraine medications
4.Reduce the risk of diabetes
5.Help with muscle fatigue for athletes and bodybuilders
About Drotaverine Hydrochloride
Drotaverine hydrochloride is used to relieve or prevent all types of smooth muscle spasm, and whether the functional or nerve spasms. Its spasmolysis effect is better than the same role in smooth muscle of papaverine many times, and long time, this product only applies to smooth muscle and not affect the autonomic nervous system, so as an choline spasmolysis medicine. Suitable for gastrointestinal convulsion, biliary colic as cholecystitis, gall-stone, renal colic, such as kidney stones, ureteral calculi, pyelonephritis, cystitis, menstrual cramps, etc.
It is a benzylisoquinoline derivative. Drotaverine acts as a smooth muscle relaxant.
[ Storage ]
Store in cool & dry place; Keep away from strong light and high heat.
[ Shelf life ]
24 months when properly stored
[ Package ]
Enterprise standard. Drums or cartons, 25kgs/drum(carton),2.5kg/bag, double vacuum plastic packing (vacuum sealed foil bags) inside.
For more information of product, please send the email to [email protected]


After send online enquiry, we will reply you as soon as possible, if not get any response on time please contact us by Tel or Email.This form is unable to receive your inquiry from aol, hotmail, gmail or others but company email address.
E-MAIL:[email protected]
TEL: +86 592 536 5868
WHATSAPP: +86 189 6516 2351