Doxorubicin Hydrochloride(Doxorubicin HCL)
Doxorubicin Hydrochloride(Doxorubicin HCL)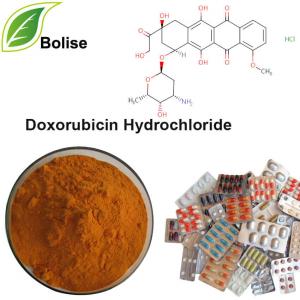 [ Synonyms ] (8S-cis)-10-[(3-Amino-2,3,6-trideoxy-alpha-L-lyxo-hexopyranosyl)oxy]-7,8,9,10-tetrahydro-6,8,11-trihydroxy-8-(hydroxyacetyl)-1-methoxynaphthacene-5,12-dione hydrochloride
[ CAS No. ] 25316-40-9
[ Molecular Formula ] C27H29NO11•HCl
[ Molecular Weight ]  580.00
[ Appearance ]  Orange red powder
[ Assay ] >99%
[ Melting Point ] 216ºC
[ Boiling Point ] 810.3ºC at 760 mmHg
[ Flash Point ] 443.8ºC
About Doxorubicin Hydrochloride(Doxorubicin HCL)
Doxorubicin hydrochloride is an antibiotic anti-tumor drug, which can penetrate into cells and bind with tumor cells' DNA, inhibit DNA replication, and block the function of RNA polymerase to inhibit RNA synthesis. Its cytotoxicity is related to free radical formation, cell membrane binding and fast cell membrane breaking. Widely used in cell culture or rat kidney disease, myocardial ischemia and other aspects of modeling materials; Used to inhibit macromolecular biosynthesis.
For more information of product, please send the email to [email protected]


After send online enquiry, we will reply you as soon as possible, if not get any response on time please contact us by Tel or Email.This form is unable to receive your inquiry from aol, hotmail, gmail or others but company email address.
E-MAIL:[email protected]
TEL: +86 592 536 5868
WHATSAPP: +86 189 6516 2351