Domiphen Bromide
Domiphen Bromide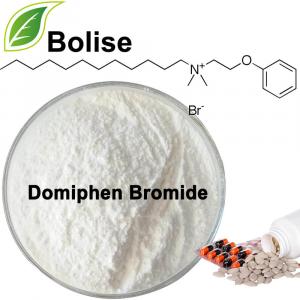 [ Synonym ] (Dodecyldimethyl-2-phenoxyethyl)ammonium bromide
[ CAS No. ] 538-71-6
[ Molecular Formula ] C22H40BrNO
[ Molecular Weight ] 414.472
[ Purity ]  99% 
[ Appearance ] White powder
[ Melting Point ] 117-119 °C(lit.)
[ Uses ]
Can be used as antiseptic and active pharmaceutical ingredient.
About Domiphen Bromide
Domiphen Bromide is a quaternary ammonium salt broad-spectrum fungicide that acts as a cationic surfactant. It is easy to adsorb on the surface of bacteria, change the permeability of bacterial cytoplasmic membrane, disturb its metabolism, and produce antibacterial effect.
Domiphen Bromide can be used for the adjuvant treatment of oral and throat infections and the disinfection of skin and wound infections and surgical instruments. Strong disinfection effect and low toxicity. It is used for storage and disinfection of medical equipment, dairy farms, and food factory appliances. It is a cationic surfactant, which is easily absorbed by bacteria and has a bactericidal effect. The bactericidal effect is enhanced in an alkaline environment, while it is reduced in soap, acidic organic matter, pus and blood. It is used for disinfection of skin, mucous membranes, local infections and instruments.
Domiphen Bromide is a low-efficiency disinfectant, but because of its good surface activity and other characteristics, it can synergize with a variety of chemical disinfection factors.
For more information of product, please send the email to [email protected]


After send online enquiry, we will reply you as soon as possible, if not get any response on time please contact us by Tel or Email.This form is unable to receive your inquiry from aol, hotmail, gmail or others but company email address.
E-MAIL:[email protected]
TEL: +86 592 536 5868
WHATSAPP: +86 189 6516 2351