DL-Phenylalanine
DL-Phenylalanine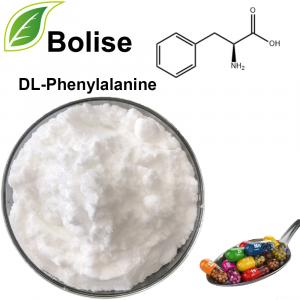 [ CAS No. ] 150-30-1
[ Molecular Formula ] C9H11NO2
[ Molecular Weight ] 165.19
[ Purity ] 99%min
[ Melting Point ] 266-267 °C (dec.)(lit.)
[ Boiling Point ] 293.03°C at 760 mmHg
[ Appearance ] White crystals or crystalline powder
[ Function ]
1. It can be used as pharmaceutical raw materials, amino acids and sweeteners intermediates.
2. DL-phenylalanine is one of the essential amino acids used as a nutritional supplement.
[ Applications ]
Used in pharmacy, food additives, nutrition enhancer
About DL-Phenylalanine
DL-Phenylalanine is a racemic mixture of phenylalanine, an aromatic amino acid with antidepressant, analgesic and appetite suppressant properties. The antidepressant effect of DL-phenylalanine may be accounted for by its precursor role in the synthesis of the neurotransmitters norepinephrine and dopamine. Elevated brain norepinephrine and dopamine levels are thought to be associated with antidepressant effects. This agent also plays a role in alleviating mood swings of premenstrual syndrome (PMS), increasing energy and mental alertness and heighten the ability to focus in individuals with attention deficit hyperactivity disorder (ADHD).
For more information of product, please send the email to [email protected]


After send online enquiry, we will reply you as soon as possible, if not get any response on time please contact us by Tel or Email.This form is unable to receive your inquiry from aol, hotmail, gmail or others but company email address.
E-MAIL:[email protected]
TEL: +86 592 536 5868
WHATSAPP: +86 189 6516 2351