D-Psicose
D-Psicose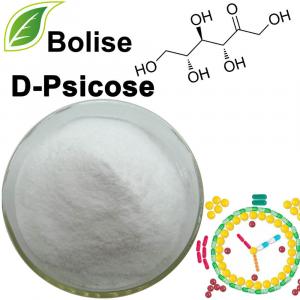 [ Other Name ] D-Allulose; Psicose; Allulose
[ CAS NO. ] 551-68-8
[ Molecular Formula ] C6H12O6
[ Molecular Weight ] 180.156
[ Appearance ] White Fine Powder
[ Purity ] 98%
[ Advantage ]
1. Low calorie;
2. The taste is close to sucrose;
3. Improve product quality;
4. No effect on blood sugar;
[ Function ] 
1. Has the effect of inhibiting the breakdown of starch;
2. Has the effect of suppressing the rise in blood sugar levels after meals;
3. Help improve insulin sensitivity;
4. Inhibits proliferation of various cancer cell lines;
5. It can inhibit the oxidative damage caused by the production of reactive oxygen species (ROS), reduce the content of free radicals and delay the deterioration;
[ Application ]
1. Medicine
2. Food
About D-Psicose
As a six-carbon rare ketose, D-Psicose has almost zero calories, and has special functions such as regulating blood sugar that are beneficial to human health. It has been evaluated as the most potential sucrose substitute by the American Food Navigation Network. D-psicose has the functions of low calorie, low metabolic rate, neuroprotective, hypoglycemic, lipid-lowering and so on.
D-psicose is a six-carbon sugar with very low content in nature, and is an epimer of D-fructose at the C-3 site. D-psicose is difficult to be digested and absorbed, and provides little energy for life activities, so it is a very useful low-calorie sweetener. In the field of medicine and health, D-psicose can inhibit fatty liver enzymes and intestinal α-glucosidase, thereby reducing the accumulation of body fat and inhibiting the rise of blood sugar concentration. Iida and Hayashi found that dietary addition of D-psicose reduced postprandial glycemic responses and improved insulin sensitivity and glucose tolerance. In addition, compared with other rare sugars, D-psicose can scavenge reactive oxygen radicals more effectively.
In the field of food application, D-psicose has the advantages of high sweetness, good solubility, low calorie and low blood sugar response, and is considered as one of the most ideal sucrose substitutes. Adding D-psicose to food can not only improve its gelling degree, but also improve its flavor through Maillard reaction with food protein. Compared with D-fructose and D-glucose, D-psicose can generate more antioxidant Maillard reaction products and maintain the antioxidant level of food for a longer time. In 2011, D-psicose was certified by the FDA as safe for use as an additive in food and diet.

After send online enquiry, we will reply you as soon as possible, if not get any response on time please contact us by Tel or Email.
E-mail: [email protected]
Tel: +86 592 536 5868
Whatsapp: +86 189 6516 2351
For more information of product, please send the email to [email protected]

1. Send Message to US ->
2. Confirm Product Information ->
3. Order & Payment->
4. Packaging&Shipping->
Our products have been certificated with the ISO certificate, free sample is available.
CGMP Manufacturer to ensure the quality stable and reliable.
All of our ingredients meet strict quality and food safety standards, and surpass industry standards for purity and cleanliness.
We are committed to meeting customers' unique needs by providing comprehensive and professional service, enjoying a good reputation among our business partners and customers for high-quality products, excellent after-sales services, competitive prices, and prompt shipping.
Highly welcome friends from all over the world to contact us. We will reply to you as soon as possible, ​after sending an online inquiry. And please feel free to call us if any urgent inquiry or without getting response from us in time.