D-(+)-Fucose
D-(+)-Fucose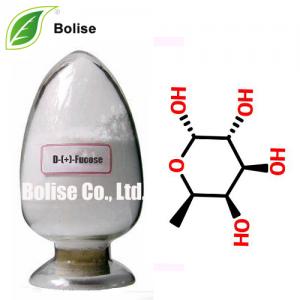 Chemical Name: (3R,4S,5R,6R)-6-methyloxane-2,3,4,5-tetrol
CAS No.: 3615-37-0 
Molecular Formula: C6H12O5
Molecular Weight: 164.16
Melting point:144-145 °C(lit.)
Boiling point:211.61°C (rough estimate)
Density: 1.1738 (rough estimate)
Appearance: White Powder
Solubility:Soluble in Chloroform,Dichloromethane,Ethyl Acetate,DMSO,Acetone,etc.
About D-(+)-Fucose:
D-(+)-Fucose is a hexose deoxy sugar found on N-linked glycans that appears on the cell surface of mammalian and plant cells. D-(+)-Fucose is also the building block of fucoidan polysaccharide, an sulfated po lysaccharide found in various species of brown algae.
For more information of product, please send the email to bkherb@globals-globals.com


After send online enquiry, we will reply you as soon as possible, if not get any response on time please contact us by Tel or Email.This form is unable to receive your inquiry from aol, hotmail, gmail or others but company email address.
E-MAIL:bkherb@globals-globals.com
TEL: +86 592 536 5868
WHATSAPP: +86 189 6516 2351